Calendar
HAPPY HOUR EVERYDAY, 3-6pm Daily : PBR and Rolling Rock: $2 pints, $6 pitchers, $2 game rentals, $1.75 high life.
EVERY MONDAY $2 Mondays 3pm-Close: $2 PBR and Rolling Rock Pints, $2 Jameson shots,
$2 Pool table rentals.
EVERY WEDNESDAY : 8 ball tournament, 9pm $5 entry
EVERY SATURDAY: Live Bands every week 9pm $5 cover
EVERY TUESDAY: Karaoke 9-Till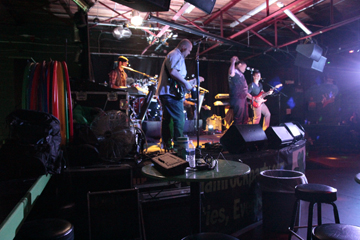 UPCOMING SPECIAL EVENTS AND LIVE MUSIC SCHEDULE. Live bands $5 Cover unless noted.
Saturday October 21st-New Creations Brass band-9-Till-$5 Cover
Saturday October 28th-Halloween Party W/Fist Full of Flannel with Saints ticket giveaways and cash prizes-9-Till-$5 Cover
Saturday November 4th-The Soul Rebels Brass band-9-till-$5 Cover
Saturday November 11th Higher Heights (Reggae night)9-Till-$5 Cover
Saturday November 18th-AT FAULT-9-Till-$5 Cover
Saturday November 25th-BAG OF DONUTS!!!-9-Till-$5 Cover